I used to write about local eateries and review local restaurants fairly regularly but I haven't done that for a while. There are a few places in Coventry which I mean to try out in the next few weeks, including various shops, restaurants or take-aways. I won't promise that it'll be a weekly thing but I'll try not to leave it too long between reviews.
I'll get the ball rolling with my visit to Love Shake in the West Orchard shopping centre. They do a wide selection of milk shakes (made using chocolate bars), fruit smoothies (made using a mixture of juice and frozen fruit) and locally made ice cream. I chose The Immunizer which is a mixture of equal amounts of strawberry, kiwi and pineapple, topped up with apple juice. then liquidized.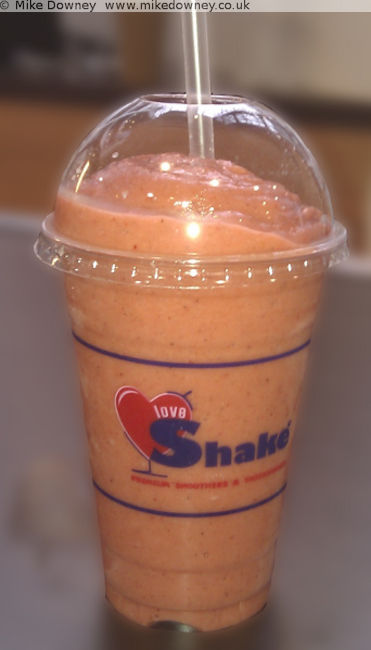 The use of frozen fruit means the fruit keeps its vitamin content but also means you get an ice cold smoothie which you can't drink too quickly without freezing your throat. The fruit flavours come through well and you can taste them all within the mix.
I'll have to pop back to try their ice cream next.