Althoug I lived in Manchester for 3 years, I only remember Manchester Tarts from school dinners. The version we used to have was similar to the one given here, with a pastry base topped with jam and set custard, with coconut sprinkled on top.
I have decided to go further back in time and cook a Manchester Pudding which appears to be an older version of the dish. A lot of old recipes (such as the one from Cassell's Dictionary of Cookery and Mrs Beaton) use puff pastry then jam and custard. Most modern variants have the custard on the bottom then jam then meringue, which is what I have done here.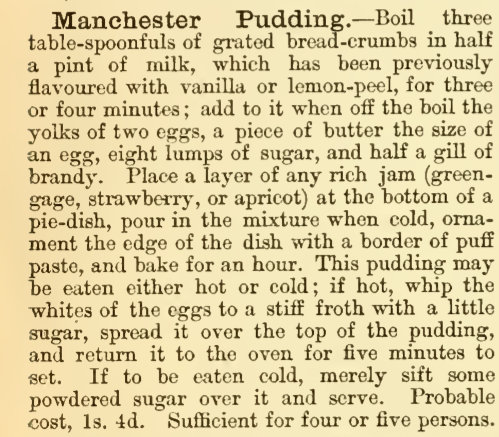 Recipe
Custard base
Warm ½ pint of milk with 25g of sugar, 25g of butter and a few drops of vanilla essence. Add 50g of breadcrumbs and simmer for a couple of minutes. Beat in 2 egg yolks and pour into ramekins or a pyrex dish. If using ramekins, put them in a tray with some hot water in the bottom. Bake at gas mark 4 for around 30 minutes (or 45 if doing a single dish).
Jam Layer
The tradtional way is to let the custard cool then spread jam over the top. We had half a jar of cherry coulis so I stirred in a teaspoon of arrowroot to thicken it then poured it over the custard.
Meringue
I whisked the 2 egg whites along with 100g of icing sugar and a pinch of cream of tarter, until the whites had increased in volume and gone thick enough to form peaks without collapsing.
I spooned the meringue over the fruit layer then baked at gas mark 8 for 10 minutes.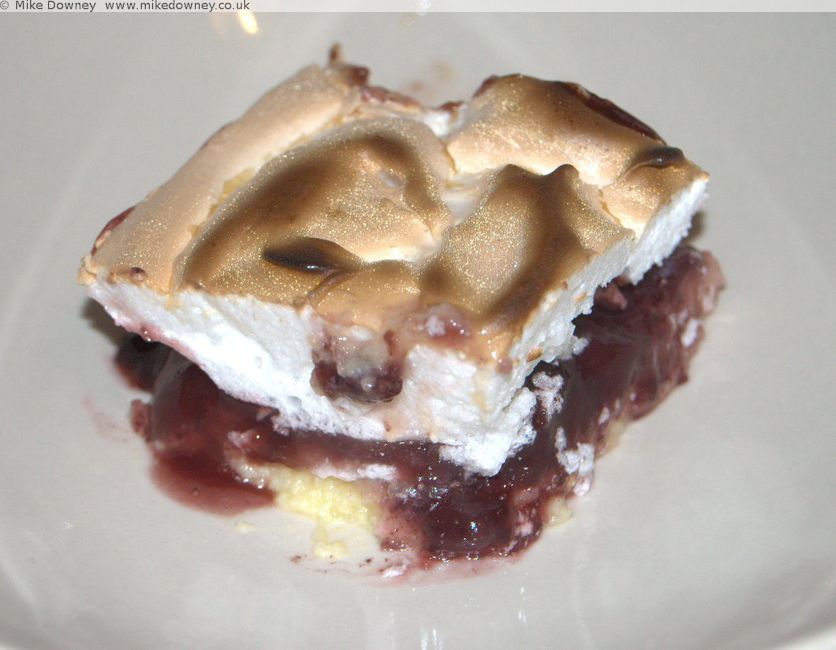 The flash had made the meringue look like it has some kind of gold glitter on top. The custard layer at the bottom was a bit soft: maybe an extra egg or more breadcrumbs might have helped. Apart from that the taste and texture were pretty good.