I only had time to try 4 different porridges this week. I'm going to be away on Friday so won't have chance to make anything.
Monday: Bacon and Syrup
Yes, you read that right. I don't like mixing sweet flavours with meat and consider pineapple with gammon or on a pizza to be a very poor choice. I decided to be adventurous and try a sweet bacon porridge. Mistake. I could still taste it even after a cup of tea and brushing my teeth.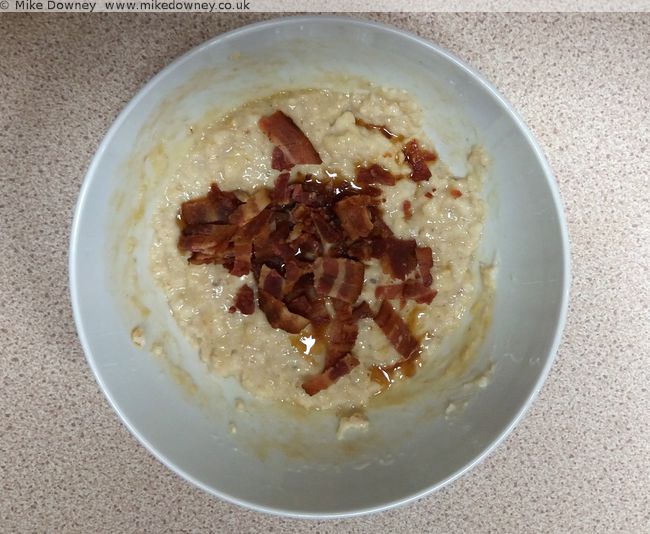 Tuesday: Apple and Blackberry
After last week's Apple and Cinnamon porridge, I decided to try an Apple, Blackberry and Cinnamon porridge, using extra cinnamon. This was better than the plain apple one, although the blackberry seeds added a bit of a crunchy texture.
Wednesday: Lemon Berry Porridge
This was inspired by a recipe from the World Porridge Making championships. I used a mixture of frozen berries (blueberries, blackberries, wild strawberries and red gooseberries) which were mostly picked in our garden, with about a tablespoon of added lemon juice. I cooked the porridge in water instead of milk then added the fruit.
I tried the porridge first, before adding any extra sugar. I don't think it needed any. The fruit were quite sweet and the lemon juice balanced it out with some added sharpness.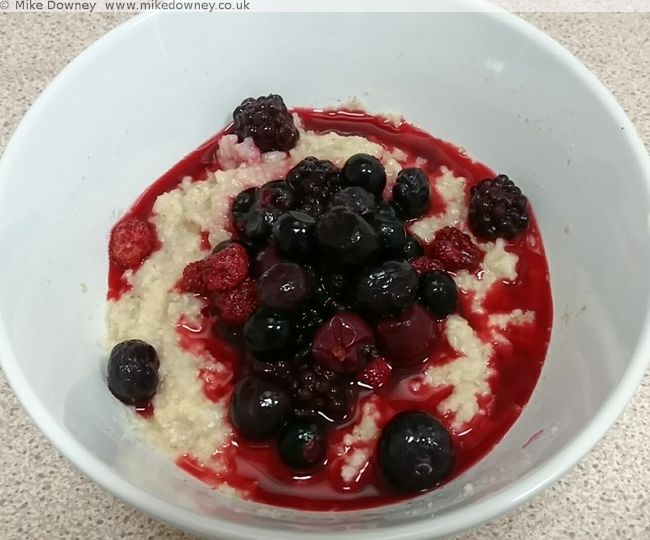 Thursday: Chocolate and Coconut
This was inspired by the flavours of the Bounty chocolate bar. Since dessicated coconut can be quite 'bitty', I microwaved some in water last night then added it to the porridge this morning, along with some drinking chocolate. The coconut still had a bit of bite to it. I have tried coconut in porridge several times before and there are always some hard bits so I probably need to boil or simmer it for quite a long time to stop that happening.