A few weeks ago I decided to try somewhere different for lunch. I found a website called wheeldecide.com which can randomly choose from nearby restaurants or take-aways. I decided to use it to choose where to go for lunch.
Week 1: Full Stop Sandwich
This place was a bit of a walk. I didn't know where 'New Town Row' was and had to look it up on a map. When I got there it was almost empty but while I was paying for my sandwich it started to fill up. I chose their 'sandwich of the day' which was pork and stuffing. It came with a very thick gravy and a few pieces of crackling.
Week 2: Tuckers
I walk past this place, in the Minories, fairly regularly. It does sandwiches and hot food. I decided to try the all day breakfast for £5 which had bacon, egg, sausage, black pudding, beans, toast, hash brown and tomatoes. It also came with a cup of tea. It was good value and very filling.
Week 3: Wasabi
I needed to walk to the shops to pick up something I had ordered from PC World so I put the postcode for the High Street into Wheeldecide. It kept coming up with places in the Palisades, which is closed for refurbishment, so I decided to go to Wasabi, in New Street Station, instead.
I had been wanting to go there since it opened. I chose one of their salmon sushi boxes, which came with a couple of spicy chicken skewers.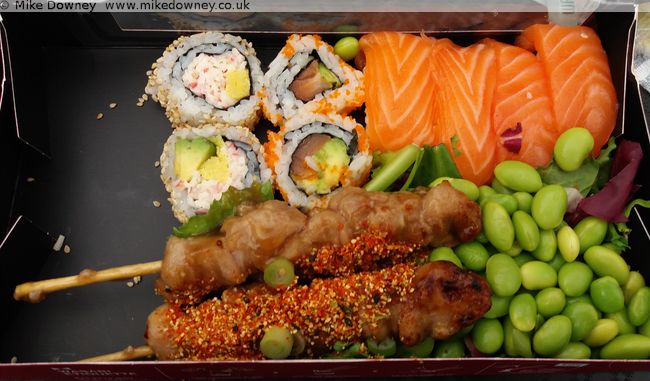 They have a wide range of sushi and bento boxes, with rice and noodles. I'll have to revisit to try something else.