We have a glut of hot chocolate powder in work, left over from when we used a different drinks machine. I was talking to a colleague in the kitchen and I wondered whether I could use some of it to make cakes. I decided to take some home to make an experimental batch of chocolate brownies. If they were any good, I would make some more to take back to work to share.
Every now and then I use apple sauce in recipes, since it can be used to replace some or all of the butter. We recently bought an Instant Pot, which we use several times a week as a pressure cooker, slow cooker, bread proving pot, or sometimes just a giant saucepan. It is very useful and I fully intend to blog a bit more about it in the future.
We had recently been given a bag of apples from the tree in Emma's Auntie Val's garden. I peeled them, cut them into big chunks and put them in the instant pot with a splash of water. I cooked them on the 'Soup' programme for 15 minutes and they had cooked down to a smooth pureé, there was no need to mash or liquidize afterwards.
Recipe
I looked up some brownie recipes to get a feel for the quantities, then decided to use the hot chocolate powder to replace both the sugar and cocoa powder.
Ingredients
1 cup of apple purée
3 eggs
1½ cup of hot chocolate powder
a pinch of salt
1 cup of plain flour
1 teaspoon of baking powder
50g of plain chocolate, broken into chunks
Method
Heat the oven to 180C or gas mark 4. Grease and line a 9 or 10 inch cake tin.
Mix the apple pureé, eggs and hot chocolate powder together
Mix together the flour, baking powder and salt and sift into the wet mixture. Fold in.
Stir in the chocolate pieces.
Pour into the tin and bake for about 30-40 minutes, until a skewer comes out clean.
Results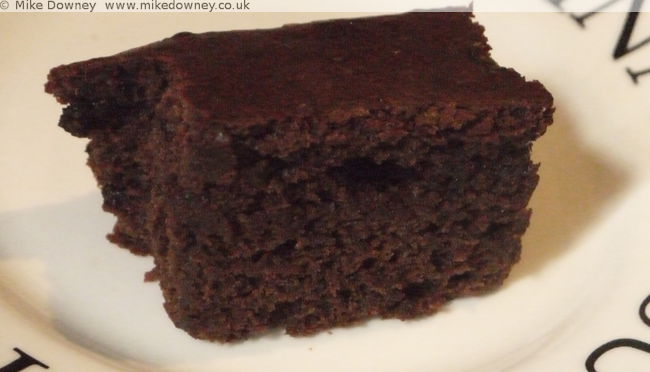 Unfortunately I had to leave the house before the brownie was fully cooked so I turned the oven off and left it in while the oven cooled. When I got back, the brownie was properly cooked though, possibly a bit over-cooked because it wasn't moist and squishy inside.
There was absolutely nothing wrong with the flavour though. Chocolate cakes do need a lot of cocoa powder or they just end up like brown sponge cakes. This was probably about right. I tried a square, then remembered that I needed to take a photo to put here. After taking the photo, I made a coffee and ate the second piece. If there is any cake left on monday, I'll take it to work, but I'll probably have to make another one to make sure there is enough to go round.