I'm not sure which of the many Uptons this recipe came from. There are several in England, including two near where I grew up (Upton-by-Chester and Upton on the Wirral). The only mentions of an Upton Pudding I can find on-line all refer to a pudding shop in Upton upon Severn but nowhere gives a recipe or even a vague description.
The recipe I followed came from Cassells Dictionary of Cookery. Some of the quantities were vague (volume of a teacup? size of a pie dish?) but the cooking instructions were fairly clear.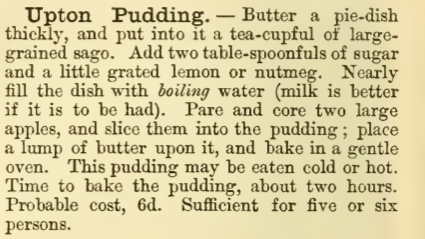 I bought a packet of 'sago' from the market this morning but when I looked closer, the contents were described as 'tapioca'. There does seem to be a lot of confusion over the two ingredients and they appear to be used interchangeably. It looks like a lot of so-called sago is now made from cassava so is actually tapioca.
My version was made using a measuring cup of sago/tapioca, a mixture of milk and water, a teaspoon of orange zest and three small apples, cored peeled and sliced. I baked it at gas mark 5 for a couple of hours, adding some extra water part way through when it had absorbed everything but the sago was still crunchy.
The flavour and texture were a bit unusual. The orange flavour was fairly prominent but probably needed a bit more sweetness because it didn't quite taste right to me.
Update 17/05/2015
When I tried the pudding last night it was still warm. I put the rest in the fridge overnight and tried some more today. The texture hadn't improved and to be honest, I couldn't eat the rest of the bowl. This definitely isn't a recipe to try again. Once was probably too many times.