We have been making a lot of pancakes recently, mostly variations on the extra-fluffy pancake recipe I discovered a few weeks ago. I went back to the original recipe, which used plain flour instead of self-raising:
2 1/2 cups of plain flour
1/2 tbs baking powder
1/2 tbs sodium bicarbonate
2 tbs sugar
pinch of salt
2 cups of milk with a few splashes of lemon juice
2 egg yolks
The egg whites are whisked first until they become white and fluffy but I realised that it's possible to over-whisk them. If they become too firm and almost meringue-like, they won't mix into the rest of the batter properly.
The rest of the ingredients are mixed together then the egg whites are folded in. I find it easier to cook the pancakes using two frying pans: start them off in a small pan then lift them onto a plastic turner and flip them over into the larger pan to cook the other side.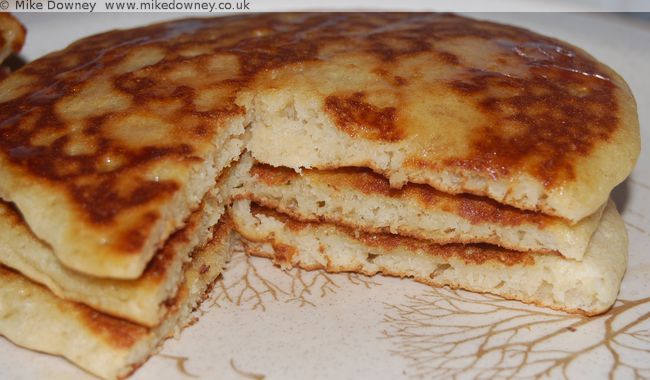 My most recent pancake experiment was to make crepes. The recipe was based on one by Nigel Slater:
50g butter
100g plain flour
a pinch of salt
2 medium eggs
350ml milk
Melt the butter then leave it to cool slightly. Sift the flour and salt into a bowl, add the eggs then gradually whisk in the milk. Finally mix in the melted butter.
It took a couple of goes to get the technique right. For the first pancake I tried to turn it over in the same pan but it tore and folded over. Eventually I managed to find a way which worked for me, which uses two pans a bit like above.
Put half a ladle of batter into a small 7-8 inch pan, give the pan a gentle swirl so the batter covers the pan. After a minute or so, when the batter has started to set, loosen the edges of the pancake so it moves freely. Hold the second pan over the top then turn the pans over so the crepe falls into the second pan, uncooked side down.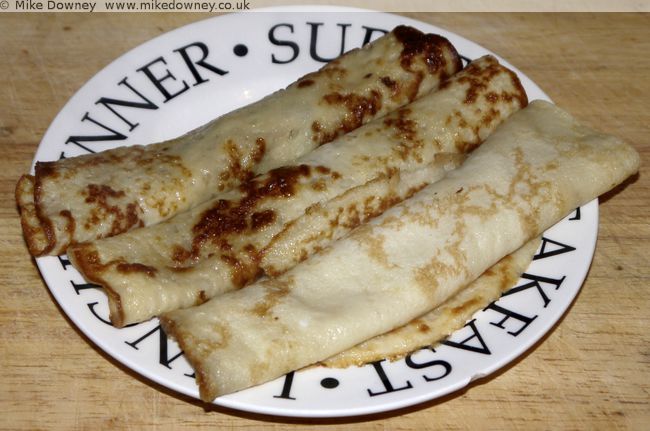 For a first attempt, we were very happy with the results. We had them as sweet pancakes but next time we might do some with a savoury filling, possibly covered with sauce or melted cheese and baked for a few minutes in the oven.