This is a recipe we've been thinking about doing for a while, ever since we first read about it. It's a similar idea to the picnic loaves which are a cross between a sandwich and a stuffed loaf.
The first step is to make the pasta sauce. We often do a 'meat sauce' in the pressure cooker, simply putting chopped vegetables (such as onion, pepper, courgette, leek, garlic) in the pan along with a tin or two of tomatoes, some herbs and seasoning and a packet of mince. The lid goes on the pressure cooker and the sauce is cooked for an hour or so.
The next step is to make the dough. For this I used my normal 'mostly white' loaf, using milk instead of water, and making the dough slightly softer than normal.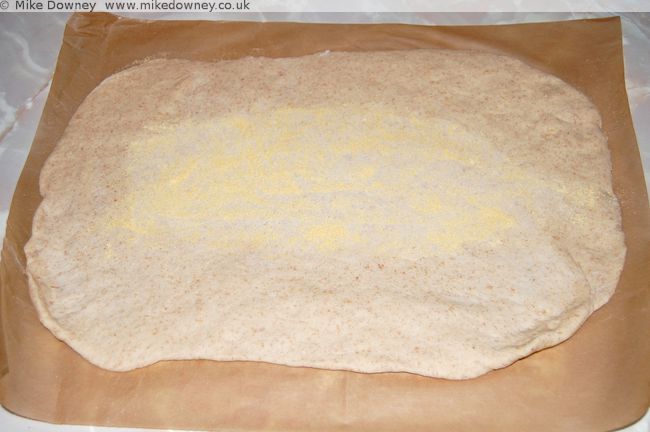 Roll out the dough and sprinkle some cornmeal in the centre (this helps stop the bottom going soggy during cooking).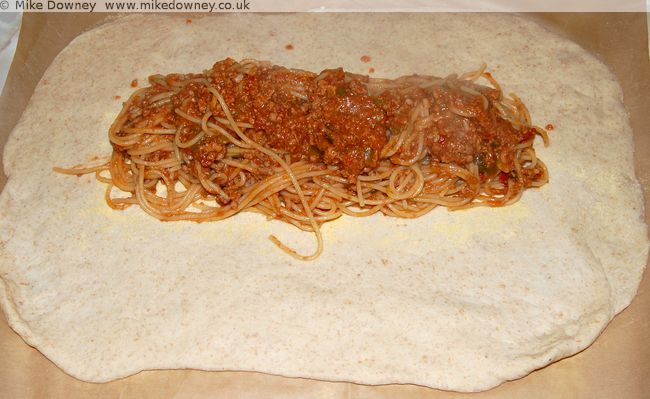 Mix the cooked spaghetti with the sauce and spread over the dough.

Dot the pasta with diced mozzarella.

Cut slits in the dough, going outwards from the pile of pasta. Fold the slits over to approximate a 'plait'. There was spare dough at the edges which we used to make doughballs. Brush the loaf with melted butter and cover with grated cheese (such as parmesan or pecorino).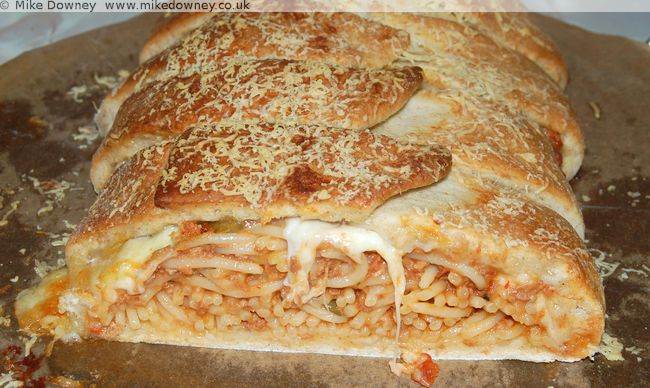 Bake at gas mark 4 (180C) for half an hour. I assembled the loaf on some baking parchment and transferred it to a pizza stone to cook. The loaf came out well, with no sign of a soggy bottom.
I was surprised by how straightforward this was to make. The 'meat sauce' is something we regularly make and often have in the fridge or freezer. The bread dough is quick to make and just needs to be left to prove for a few hours.
This has spurred me on to try other stuffed loaves. A couple of years ago I made a macaroni cheese pie (inspired by a pie we bought while out at a country show) so I think a macaroni loaf would work well. The cheese sauce would have to be quite thick but I can't see why it wouldn't be as good as the spaghetti loaf.