It has been quite a long time since I did one of the regional recipes. I haven't forgotten about them but I have been very busy recently. My new job keeps me out of the house for 12 hours a day during the week so I have very little time in the evenings. Yesterday I finally managed to make the Isle of Wight Cracknels. They take quite a long time but most of that was between the boiling and baking steps when they were left to dry.
I decided to make Isle of Wight Cracknels because I've never made a traditional biscuit before (i.e. a 'twice cooked' one, which is where the word biscuit actually comes from). There are a lot of historical mentions of the biscuit and a few published recipes but I couldn't find any pictures, so I had no idea what 'form into cracknels' actually means. I decided to just roll them out and cut them into a variety of shapes.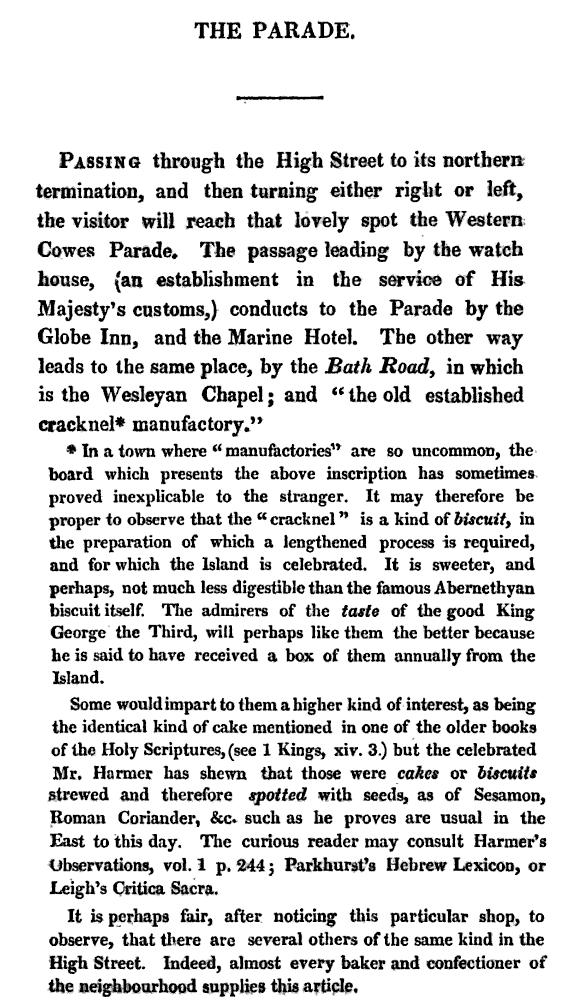 Extract from The Isle of Wight Tourist, and Companion at Cowes by R. Moir, published in 1830.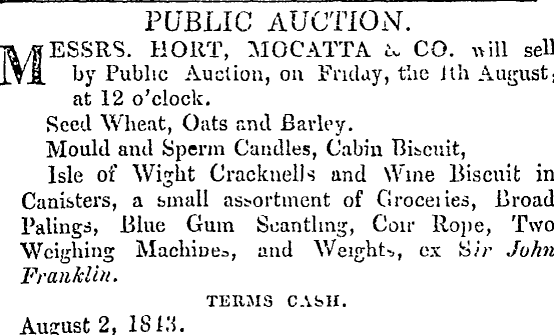 A mention of Cracknels from a newspaper: New Zealand Colonist and Port Nicholson Advertiser from 1st August 1843.
To make the biscuits, I mixed together: 400g of flour, 1 tsp salt, 1 tsp mixed spice and 1/2 tsp cinnamon. I mixed in 200g of softened butter and beat in one egg to form a stiff paste. I rolled out the paste, cut out the biscuits and dropped them a few at a time into a pan of simmering water. When they began to float I fished them out and put them into a bowl of cold water. After they had all been boiled and cooled, I put them on cooling racks to dry out. (As I mention below, I sprinkled sugar and seeds on some of them) When they had dried out I baked them at gas mark 6 for 25-30 minutes, turning them over half way through.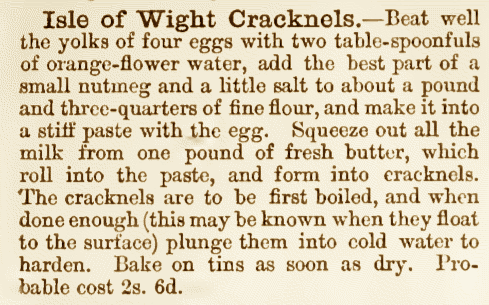 The Cracknel recipe from Cassell's Dictionary of Cookery.
The biscuits came out more like pastry disks which, now I look more closely at the ingredients, shouldn't be a surprise really.
Since the recipe I followed doesn't include any sugar, and I didn't want to add any since I was trying to stay faithful to the old 1883 recipe from Cassell's Dictionary of Cookery, I didn't add any to the mixture but I did split the mix into three parts and sprinkle sugar on one set, some sugared fennel seeds (leftover from the Bath Buns) on another set and left the final set plain.
(I had found an almost identical recipe in a book called The Canadian Housewife's Manual of Cookery which includes an unspecified amount of sugar but I had forgotten about it until I came to write this up today)


Cracknel recipe from The Canadian Housewife's Manual of Cookery.
Some of the biscuits had puffed up while others had stayed flat. While this didn't affect the taste at all, the puffed up ones had a softer texture and were nicer to eat.
I tried a couple of the biscuits last night, before they had cooled down fully, and the mixed spice flavour came through quite well but the biscuits could do with being a bit sweeter. Even the ones which I sprinkled sugar on didn't really have much of a sweet taste. One of the newer variations, which include quite a lot of sugar, might be more suitable for the modern palate.