We have been fans of the Great British Bake Off since it first started and occasionally I cook something inspired by the programme. This week they did a Fougasse, which I hadn't heard of but looked good. The version on the programme was flavoured with herbs but I thought I would start with a plain version then try flavoured ones another time.
I followed the bread part of the recipe precisely, scaling it down a bit since I didn't need two loaves.
300g (2¼ cups) of bread flour
6g salt
one sachet of yeast
2 tbs extra virgin olive oil
200 ml warm water
The method involved adding ¾ of the water at the start, then slowly adding the rest, using a food mixer with a dough hook. I followed it to the letter, including the 8 minute mixing time.
I actually split the dough in 2, adding extra flour to one half to use for a pizza base. The other half I left as-is and shaped into an approximate leaf shape and cut down the middle and diagonally from the centre.
After about an hour or so proving, I transferred the bread, still on the baking paper, onto the pizza stone and baked it (at gas mark 7) for 15 minutes.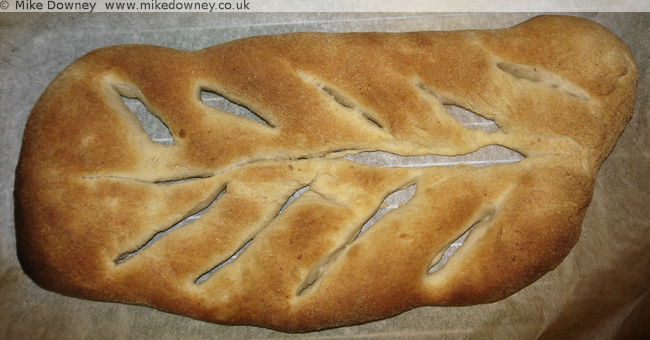 It looks a bit irregular (or informal as Mary Berry might say) but that was mainly because it slid off the tray while I was getting ready to transfer it to the pizza stone. We ate it with some dips. I made the cheese and courgette dip again, but this time using cream cheese and pecorino instead of goats cheese. The fougasse was good. The outside was crispy while the inside was soft and fluffy. The dip was cheesy and went well with it.
Next time, I will add some extra flavours to the bread. Possibly garlic and chilli or parmesan/pecorino. We have some fresh herbs in the garden (and more chopped in the freezer) so I could also do Paul Hollywood's herb version too.