This morning's journey to work took about three times as long as it normally does. The journey was ok until the approach to Birmingham International where the train sat motionless for a few minutes before pulling into the station.
After a short wait an announcement was made telling us we had to leave the train and board a different one on another platform. Everyone dutifully trudged over to that platform and started to cram themselves onto the train but it soon filled up and left, with half the people still on the platform. The 'paddle waver' (who seems to be there to indicate to the driver whether anything's trapped in the door) had made a swift departure and had gone into hiding so there was no-one to ask what was happening.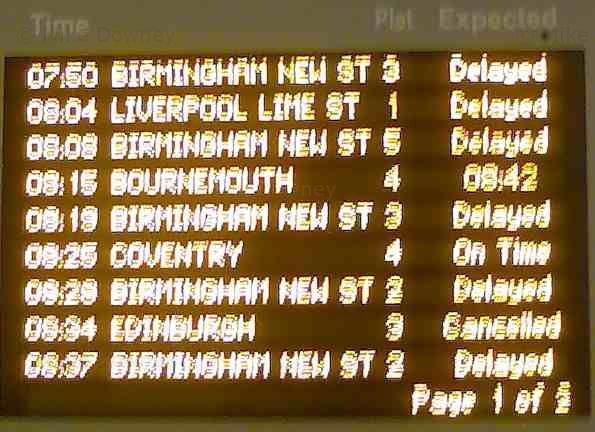 I went up to the concourse to wait, but that proved to be almost as cold and draughty as the platform. There was an announcement that all trains to New Street had been cancelled. A few minutes later we were told to go to another platform and board the train there. We were warned that due to a trackside failure the train would proceed slowly to New Street. Then about a minute later we were told that the train was out of service and to return to the concourse for further news. The train driver did admit that the delays were caused by an overhead power line failure though.
Eventually we managed to get onto a train which was bound for Liverpool. This stopped at most of the local stations on the way to New Street but at least it was moving. The whole sorry comedy of errors meant that I got to work about an hour late.