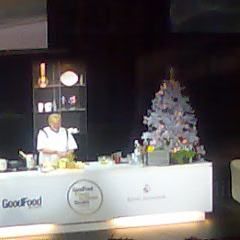 We only bought our tickets a week ago - we decided to go because we found out that some of Emma's friends from home (Judy and Helen) were going, and we were going to meet them there. We had tickets for the 10:30 Anthony Worral Thompson theatre show so we turned up in plenty of time to wander through the hall and start sampling the food and drink on offer.
We took our seats in the theatre, only to find Helen and Judy sitting behind us, just a few seats away. The cookery demonstration wasn't as destructive as last year, with no kitchen equipment falling apart. Gordon Ramsay did get mentioned a few times. AWT referred to how he doesn't dislike Ramsay and considers him a good chef, but since it isn't reciprocated he referred to him as a bit of a prat.
There were other celebrity chefs doing public demonstrations in the halls. We saw Paul Rankin and James Martin at various times but didn't hang around to watch. There were too many free samples to go after.
It wasn't all free food though. We did buy some things - a few bottles of cider, some 'nairns' oat cakes, some 'seabrooks' crisps, an assortment of Hersheys chocolate/Reeses peanut butter sweets, and some cooking oil. It was a lot to carry around with us by the time we were ready to leave.