The meatloaf recipe is similar to our normal burger recipe but baked in a tin instead of being fried in a pan.
Ingredients
All quantities are approximate.
400g or so of turkey mince
1 medium leek
½ courgette
2 cloves of garlic
1 chilli pepper
plain flour
1 egg
a couple of handfuls of breadcrumbs
100g mozzarella or other cheese
salt and pepper or other seasoning as preferred.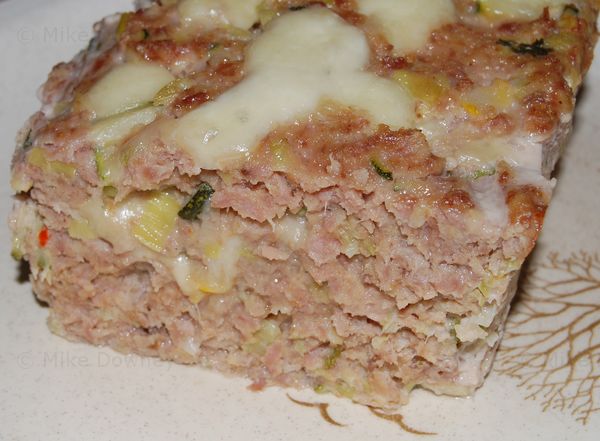 Start by finely chopping the vegetables frying in a little oil until they soften. Stir in a couple of tablespoons of flour then leave to cool before mixing the vegetables with the mince.
Add the seasoning, breadcrumbs and egg and mix well. Put half of the mix into a loaf tin then layer half of the cheese. Cover with the remaining mix. Cover with foil and bake for about 1 hour at gas mark 6. Remove the foil and cover with the remaining cheese before returning to the oven for about 10 minutes to melt the cheese.