I struggled to find a recipe for the letter F but eventually found the Felton Spice Loaf, which is a quick and easy spiced fruit cake.
Felton is a village in Northumberland, just off the A1 between Morpeth and Alnwick. Many years ago I had a long weekend in Northumberland, which started off with a stay in a hotel in Alnwick. I stopped at a cafe in Morpeth on the way, so while I haven't been to Felton itself and the place has no significance for me, at least I know I have driven past it.
The recipe is another simple 'pound cake', with equal weights of self raising flour, butter, sugar and eggs, with added ground almonds, sultanas and chopped mixed peel. Since I usually find that spiced cake recipes don't have enough spice for my liking, I added the given quantity of mixed spice and then an extra teaspoon of cinnamon.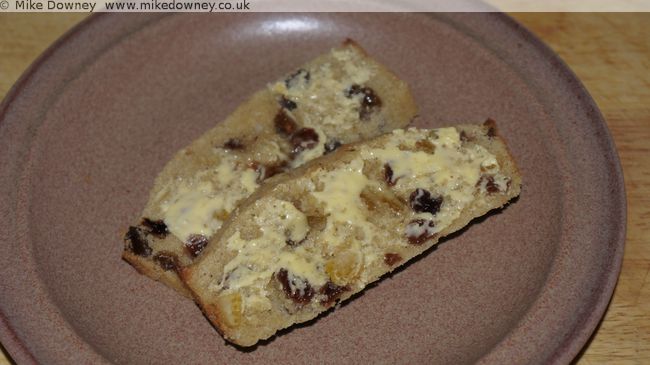 The cake takes about half an hour to cook at gas mark 5 and is delicious when still warm and spread with a bit of butter. The sugar and dried fruit meant that the cake was a bit sweet so if I make it again I will reduce the amount of sugar slightly, probably to 3/4 of the original amount.