In Victoria Wood's TV series dinnerladies she described Scotland as somewhere where everywhere was spelt Ecclefechan but pronounced Kirkcudbright. I've never been to Ecclefechan but I have been to Kirkcudbright so that's enough of a tenuous link for this recipe
The Ecclefechan tart is a version of the Border Tart, with a filling of dried fruit and chopped nuts. Most of the recipes for the former seem to be walnut based with the latter being almond based although there is some overlap in the recipes.
The version I made was based on this recipe. I made a cross between the two, using chopped mixed nuts and ground almonds. We usually have several bags of dried fruit in the kitchen which we dip into regularly for snacking so I had sultanas, cranberries, apricots and cherries available.
I recently discovered a hot milk pastry, which is similar to the hot water pastry traditionally used in pork pies but with milk instead of water and butter instead of lard. It's easy to mix but needs to cool down slightly before rolling out or pressing into a pie tin.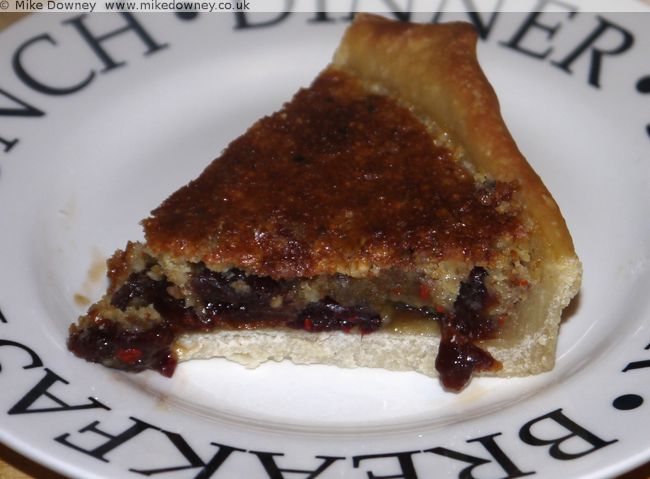 To make the pastry you'll need:
2 cups/450g of flour
½ a cup/120ml of milk
125g of butter
Bake the pastry blind for 10 minutes
For the filling:
125g of butter
200g light brown sugar (or 100g each of white and dark brown)
2 eggs
50g chopped mixed nuts
300g mixed fruit
1tbs wine vinegar
Bake at gas mark 5 for 25-30 minutes. The filling will look cooked on top but still be a bit soft. It will firm up when it cools.