I was discussing food with one of my colleagues in work and I remembered that we had some chopped spinach in the freezer which we had bought a couple of months ago but haven't used yet. When I got home and mentioned this to Emma, she looked for recipes and found Spiced chickpeas with halloumi. She described the recipe to me then I went into the kitchen to start cooking our version. At this stage I hadn't actually read the original recipe.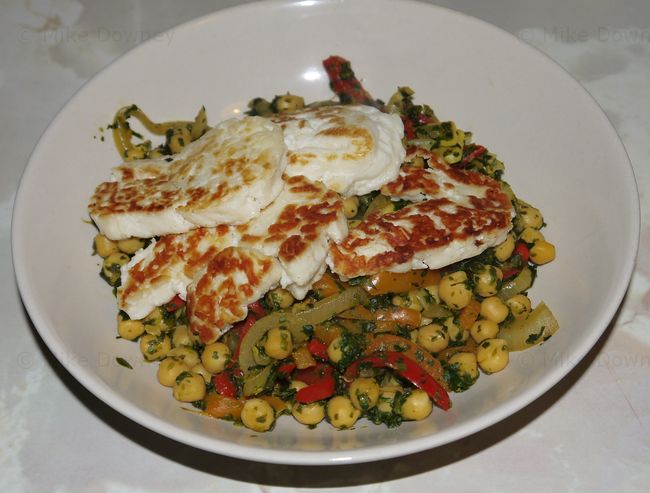 I started by slicing and frying one red pepper and one orange pepper. I then added a sliced onion, a couple of cloves of garlic, 3 small chilli peppers, and a level teaspoon of dried ginger. I stirred everything together then left it for a few minutes for the veg to soften.
I sliced the halloumi and left it on a piece of kitchen roll to remove excess water while I drained one can of chick peas and added them to the pan then added a handful of the chopped spinach. I then fried the halloumi in a separate pan.
The meal was rather spicy (Emma actually added the chillies and 3 seemed like a reasonable number - we didn't realise the original only called for 1) and I couldn't really taste the ginger, so next time I might reduce the chilli and increase the ginger. For a less vegetarian version, we could also add some shredded chicken to the chickpeas