Yesterday Emma bought some smoked mackerel from the supermarket in the city centre. I was looking for a suitable recipe which could be made using items we had in the kitchen. I found a recipe which looked promising. The only thing I didn't have was olives, so I left them out. I also decided to cook it in a pan instead of in the oven.
I started by frying some onion and garlic in a bit of olive oil until they softened. I then added a glass of red wine and boiled it for a couple of minutes before adding a similar amount of chicken stock and half a tin of tomatoes (just the tomatoes, not the juice - I didn't want the sauce to be too runny). I added a pinch of sugar, a couple of tablespoons of capers and a sprig of rosemary and let it simmer while I boiled a pan of rice. We thought a slightly spicy rice might go with it so I cooked the rice in the rest of the chicken stock and added a generous pinch of chilli flakes.
When the rice was nearly cooked, I removed the sprig of rosemary and added the mackerel to the pan. When it was ready to serve, I grated some parmesan to sprinkle on top.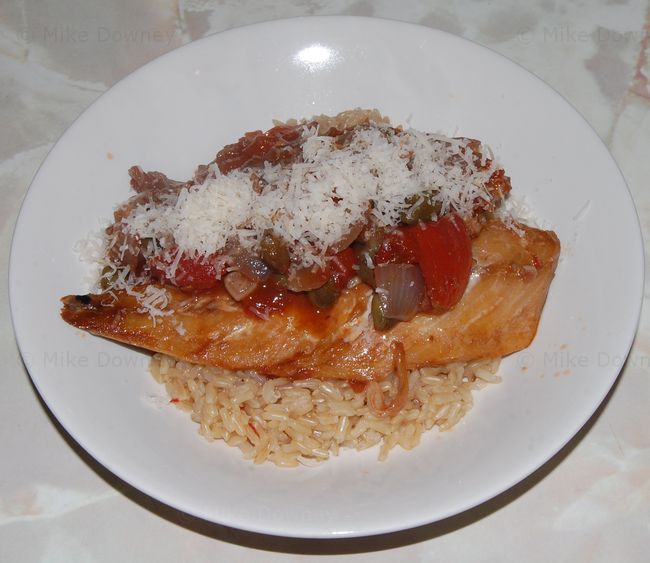 The combination of tomatoes, fish and capers reminded me of a puttanesca sauce. The flavours were fairly intense but well balanced without anything dominating too much. The fish was quite good too, despite being from the supermarket's economy range.