I recently inherited an old Kodak Box Brownie - a Portrait Hawkeye. Despite the camera being around 70 years old, the film for it is still available.
I popped down to my local camera shop, bought a couple of rolls of ISO 100 film in 120 format, and tried to thread in onto the take-up spool in the camera. Loading the camera is pretty much the same as any old style medium format camera - much more difficult than todays modern machines. When you consider that this camera was supposed to be a simple to operate 'camera for the masses', you realise that back then, manufacturers expected users to put a bit more effort into their photography. Modern photographers who have been brought up on autofocus 35mm or APS would be horrified to see how complicated the film loading procedure was.
I realised than the lens wouldn't be very good by modern standards, so I decided to contact print the negatives (another reason for contact printing is that my enlarger doesn't go up to 6x9cm negatives). I also thought it would be a good idea to take a 'panoramic' shot, by holding the camera vertically and taking several exposures side by side. This wasn't as easy as I expected, because the Brownie viewfinder wasn't very clear, but I managed to take 4 overlapping shots, which fitted together fairly well.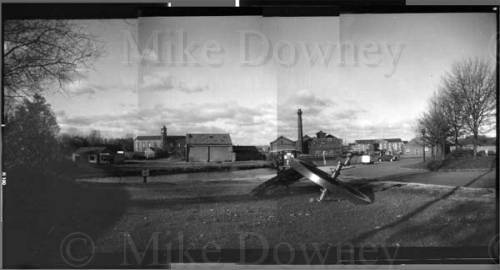 One of the Brownie Panoramas as described above. This one was taken near the Boat Museum, in Ellesmere Port. One disadvantage of taking this kind of photo is thay you only get 2 actual shots on a roll of film (the 6x9cm format used by the Brownie gives 8 frames per roll, and 4 frames are used per photograph).