I occasionally have a go at making fluffy american-style pancakes and while they are usually good, they never come out as thick and fluffy as shop bought ones. I decided to look into how to make them softer and thicker and the secret seems to be egg white.
The recipe starts off similar to our old pancake recipe:
2 1/2 cups of self raising flour
2 tbs sugar
pinch of salt
2 cups of milk
2 egg yolks
Mix everything together then take the egg whites and whisk them until they increase in volume and start to become meringue-like. Gently fold the egg white into the batter mix.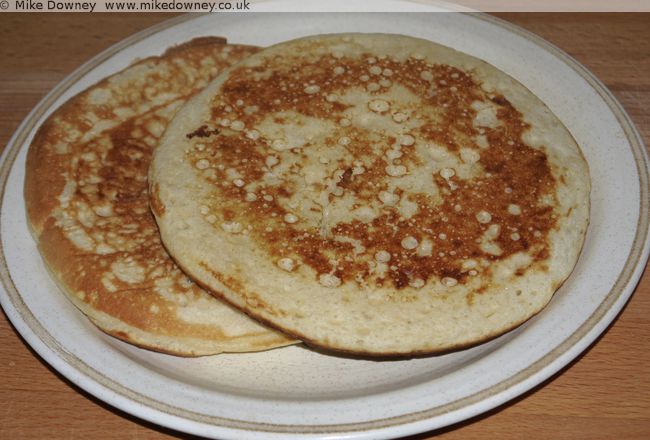 The mix made quite a lot of batter so I had enough to try different ways of cooking the pancakes. First I poured some into yorkshire pudding tins and cooked them in the oven at gas mark 4. The pancakes came out a very soft, very fluffy but a bit pale. My next attempt was also in the oven but at a higher temperature. The pancakes had a better colour but they also had a slightly hard crust. Next I tried cooking them in the traditional way, in a frying pan. These came out looking much better, but was slower since I could only cook one at a time.
The next step is to probably try some flavoured pancakes. Chocolate or fruit will probably work well.